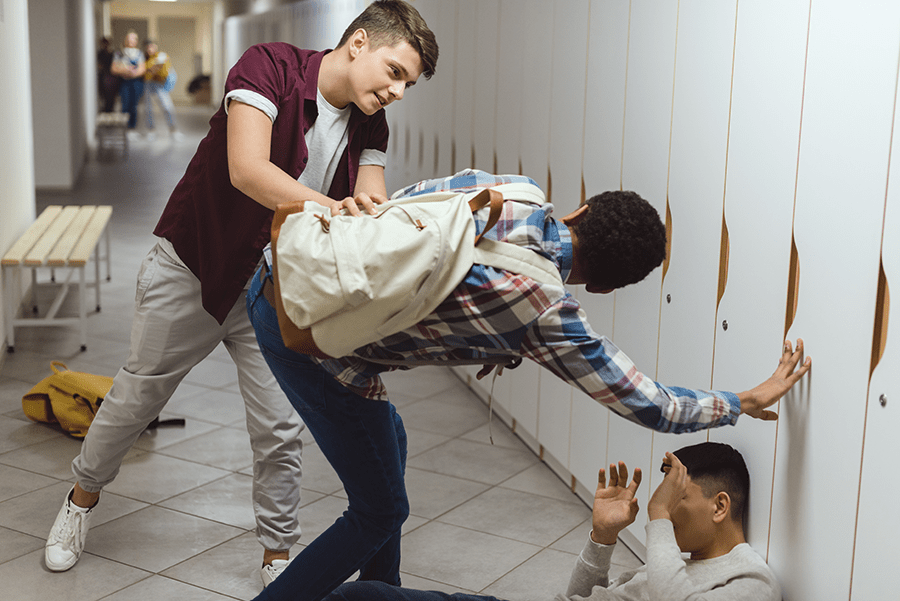 I. LEGAL DEFINITION
PC 415.5:  the crime of Fight in a School occurs when an individual unlawfully fights or challenges to a fight another person(s) on a school campus, or when he/she maliciously and willfully disturbs another person on a school campus by making loud and unreasonable noise, or when he/she uses on a school campus words that are likely to provoke an immediate violent reaction.  The term "school campus" includes the campus and buildings of any school, public or private, community college, or public university.
This penal code section applies only to individuals who, at the time when the incident occurred, were not registered students or employees of the school where the fight took place.
To obtain a conviction for a violation of PC 415.5, the prosecutor must prove beyond a reasonable doubt each of the following:
You started a fight or challenged somebody to a fight, or you disturbed another person by causing loud and unreasonable noise and you were not otherwise engaged in lawful activity, or you used offensive words that were inherently likely to provoke an immediate violent reaction.
At the time of the incident, you were on a school campus.
At the time of the incident, you were not a registered student or an employee of the school where the incident occurred.
II. WHAT DOES IT MEAN
You commit PC 415.5 when you are on the campus of a school in which you neither study nor work, and you do at least one of the following:
You unlawfully fight or challenge someone to a fight.  "Unlawfully" means that you were not acting in self-defense or defense of another person.
You maliciously and willfully disturb someone by making loud and unreasonable noise.  "Maliciously" means that you acted with the intent to annoy or injure, and "Willfully" means that you did what you did on purpose.  A "loud and unreasonable noise" means words that communicate a clear and present danger, or making a sound for the purpose of interrupting lawful activities, as opposed to communicating with someone.
You use offensive words that are inherently likely to provoke an immediate violent reaction. Words are "inherently likely" to provoke an immediate violent reaction when they are reasonably likely to provoke someone else to react violently, and when you say those words, there is a clear and present danger that the other person will immediately erupt into violence.
Example
Paul is a freshman in college.  One night, to distract himself after having received an "F" in an important mid-term, Steve drives to his former high school to meet with his girlfriend Jessica, who is a high-school senior and has soccer practice that night.  When Steve gets to the school's soccer field, he sees the captain of the boys' soccer team place his hands on Jessica's shoulders and hug her.  Steve loses his cool, runs toward the kid, smacks him on the back of the head, and challenges him to a fight.  Steve and the kid start fighting right there on the soccer field.  The coaching staff step in and separate the two, but Steve gets arrested by the police, alerted by the parents who were watching soccer practice.
Can Steve be prosecuted and convicted for PC 415.5 – Fight in a School?
Yes, because Steve was involved in a fight that he started and that took place on the campus of a school in which Steve is no longer a registered student.
III. PENALTIES
PC 415.5 – Fight in a School is a misdemeanor for which you can be sentenced to county jail for up to three months or be ordered to pay a fine of up to $400, or both.  The maximum jail sentence is extended to six months, and the amount of the fine may reach $1,000 if you have one or more prior convictions for the same crime or for another school-related crime such as PC 626.2 – trespass on school grounds.  Whether you receive a jail sentence or a probation sentence, depends on many factors such as the specific facts of the case and your prior criminal record, if you have any.  However, if you have a prior conviction for PC 415.5 or a school-related crime, the law requires that you serve at least 10 days in county jail.  If you have two or more convictions for those crimes, you will have to spend at least 90 days in custody, before you can be placed on probation.  If you are sentenced to a county jail, you would have to serve at least 50% of your sentence.  Unlike PC 415 – Disturbing the Peace, PC 415.5 – Fight at a School may not be charged as an infraction or reduced to an infraction.
IV. DEFENSES
Insufficient Evidence.  The most common defense used in criminal defense is that there simply isn't enough evidence to convict you of the charge.  For example, there is contradicting evidence that the person charged with the crime is the one who actually started the fight.
False Accusations.  False accusations are not technically considered a "defense" in criminal law. In essence, the defense of false accusations comes from a person who falsely blames you for a crime you did not commit.  In the case of PC 415.5, it could be the case that somebody accused you falsely of the crime to protect the person who actually did it, who happen to be a friend/relative of the accuser.
V. CONCLUSION
Being arrested and possibly charged with PC 415.5 – Fight at a School can cost you or your family a lot of money in fines and restitution, and it might cause you to spend some time in county jail.  This is why it is crucial that you immediately contact our PC 415.5 attorneys if you have concerns that you may be investigated for Fight at a School.  If charges have not yet been filed, we will immediately contact the assigned investigators and prosecutors to assess if law enforcement has sufficient evidence to even file charges, so that we may minimize the risks to your reputation, finances, and freedom.  You, or your loved ones, cannot take a chance on a criminal charge.  Our Ontario PC 415.5 attorneys have successfully defended thousands of people charged with crimes throughout the entire Inland Empire.  Call your local Ontario Criminal Defense Attorney today at the Inland Empire Defense 909-939-7126. Located in Ontario.