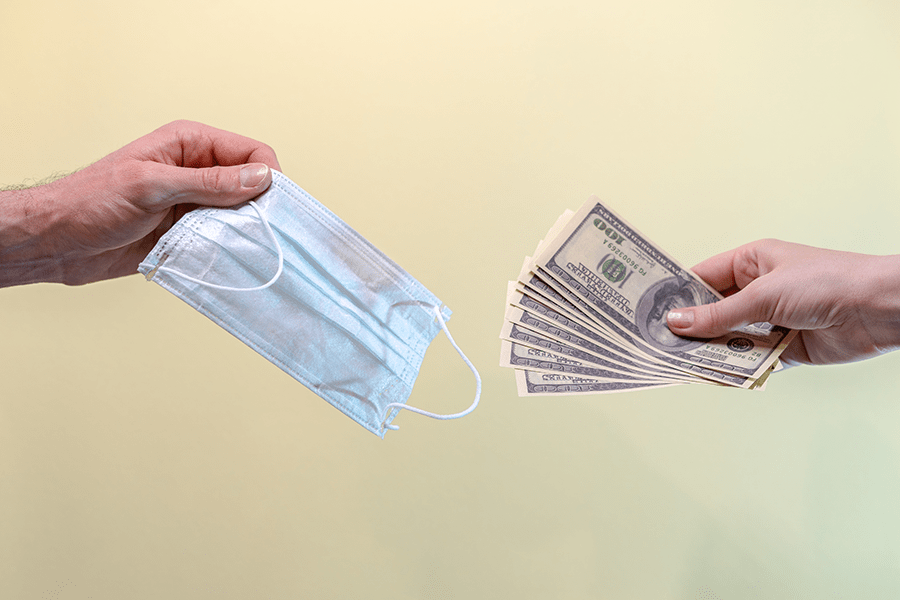 I. PC 396: Price Gouging
---
Legal Definition: (a) The Legislature hereby finds that during a state of emergency or local emergency, including, but not limited to, an earthquake, flood, fire, riot, storm, drought, plant or animal infestation or disease, or other natural or manmade disaster, some merchants have taken unfair advantage of consumers by greatly increasing prices for essential consumer goods and services. While the pricing of consumer goods and services is generally best left to the marketplace under ordinary conditions when a declared state of emergency or local emergency results in abnormal disruptions of the market, the public interest requires that excessive and unjustified increases in the prices of essential consumer goods and services be prohibited. It is the intent of the Legislature in enacting this act to protect citizens from excessive and unjustified increases in the prices charged during or shortly after a declared state of emergency or local emergency for goods and services that are vital and necessary for the health, safety, and welfare of consumers…
To be found guilty under PC 396 the prosecution must prove that you intentionally:
1. You raised the price of consumer goods and services;
2. That price rise was over 10%;
AND
3. You did this after an emergency has been declared.
II. What does this mean?
---
Price gouging refers to sellers who try to take unfair advantage of consumers during an emergency or disaster by greatly increasing prices for essential consumer goods and services. This would be, for example, selling items like milk, toiletries, and hand sanitizers, among other items, during a pandemic involving sickness, such as COVID-19. Price gouging only can occur when the President of the United States, the Governor of California, or the city or county executive officer, declares a state of emergency. This code section applies to individuals as well as businesses and entities within California. This means that a person who buys a lot of one product, raises the price, and resells them during a state of emergency, can be charged under this section, despite not being a business.
These restrictions are generally valid for 30 days after a declaration of the emergency. The times of protections under this code include major necessities such as lodging (including rental housing, hotels, motels, and mobile homes); food and drink (including animals) emergency supplies such as water, flashlights, radios, batteries, candles, blankets, soaps, diapers, tape, toiletries, plywood, nails, and hammers; and medical supplies such as prescription and nonprescription medications, bandages, gauze, isopropyl alcohol, and antibacterial products. More info regarding this can be found here.
This section also applies to goods and services including heating oil; building materials; transportation; freight; storage services; gasoline; and repair and reconstruction services.
III. Penalties
---
A violation under PC 396 is a misdemeanor offense in California. If convicted, you could face up to one year in County Jail for this offense. You would have to serve at least 50% of your jail sentence in custody. You would also face hefty fines and fees up to $10,000, a payback of the extra money accrued, as well as a possible pan if you are a business running this operation. You are also subject to civil enforcement actions where fines could approach up to $5,000 per violation.
This is not a strike offense under the California Three Strikes law, and it is not a Sex Offense under PC 290. You could also face a loss of your Professional License if convicted, and if you are not a legal resident, you could face Deportation in Immigration Court since the offense involves an intent to deceive others.
IV. Common Defenses
---
A common defense under this section would involve showing that there is insufficient evidence that you were intending to price gouge people. If it can be shown, for example, that the increase in the price of the item is directly attributable to increases in the cost of labor or materials needed to provide the good or service, then you would not be liable under this section. This can happen, as oftentimes when demand for goods and services increases during times of emergencies, if the wholesaler has to raise prices to keep up with the demand to get the items back into the marketplace. This would, therefore, justify the reason why prices on necessities went up for your business. It's harder to show this, for example, if you are not a business owner, but instead, a person that went from shop to shop to load up on necessities to sell outside of your garage.
V. Call Today
---
Trying to take advantage of what seems to be a money-making gold mind such as price gouging can land you in custody, paying hefty fines for years. This is a little-known law that many people are not aware of that seems most relevant now in the current COVID-19 crisis. It's always important to consult with an attorney if you feel like the business venture you're about to enter into is illegal. Our Ontario PC 396 attorney has successfully defended and is well versed in PC 396 cases in Ontario. Call your local Ontario Criminal Defense Attorney today at the Inland Empire Defense at 909-939-7126. Located in Ontario.