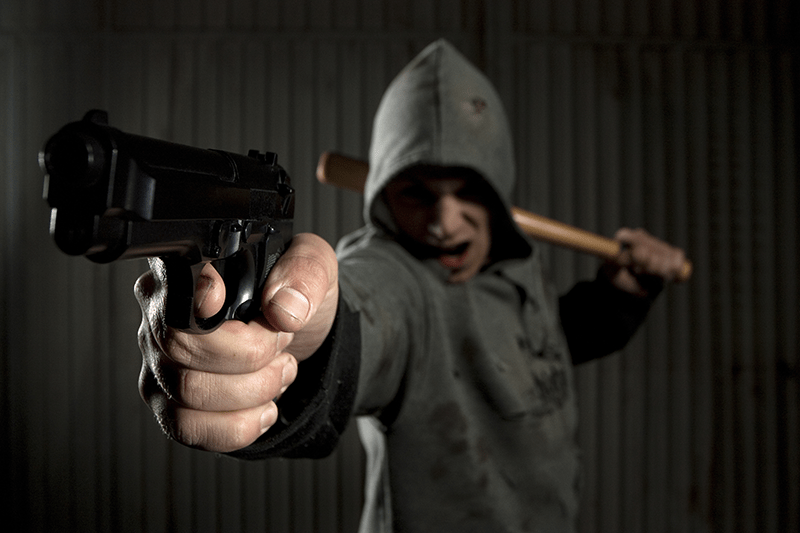 I. California Penal Code 29800(a)(1): Possession of a Firearm by a Prohibited Person
---
Legal Definition: Any person who has a prior felony conviction, who owns, purchases, receives, or has in possession or under custody or control any firearm is guilty of a felony.
For a person to be convicted of a violation of 
PC 29800(a)(1), 
the prosecution must prove the following:
1. You had purchased, received, or possessed a firearm;

2. You knew that you received or possessed that firearm;
AND
3. You had previously been convicted of a felony, or two brandishing firearm offenses.
II. What does this mean?
---
A firearm is any device designed to be used as a weapon, from which a projectile is expelled or discharged through a barrel by the force of an explosion or other form of combustion. A firearm does not need to be in working order if it was designed to shoot and appears capable of shooting. 
A person does not have to actually hold or touch something to possess it. It is enough if the person has to control over it/the right to control it, either personally or through another person. This can be found if a gun is in the glove box of a car that is registered to you, for example. This is the difference between what is called actual and constructive possession. To have actual possession of a firearm means that you are literally holding the firearm, as simple as that. Constructive possession means that you had the right to control the firearm or the right to control the person who actually possessed the firearm. 
Some common examples of firearms here are guns, handguns, rifles, shotguns, pellet guns, BB guns, and paintball guns. Toy guns are specifically excluded from this section.
III. Penalties
---
A conviction under this section is not a wobbler but instead is a straight felony offense. If you are convicted under this section, you could be sentenced to upwards of 16 months, two or three years in State Prison. You would be required to serve 50% of that sentence.

You could also face stiff fines and fees for any conviction under this charge. However, this is not a Strike offense under the
Three Strike Laws
. Although not a strike, this is another new felony, in addition to the one that lead to you being a convicted felon in the first place.
IV. Common Defenses
---
The most common defense is the lack of sufficient evidence to prove that you had actual or constructive possession of the firearm. Simply being in a room with a firearm does not necessarily mean that you had any kind of possession of the firearm. Generally, it would require some kind of knowledge from you that there is a firearm nearby.
Also, if you had only momentary possession of the firearm then the crime has not been proven. Imagine being mugged on a street with a gun, but you're a convicted felon. You fight the assailant away and grab the gun. Clearly, no law would make sense if you were told because you're a felon, you must let that man shoot you, so momentarily possessing the gun to stop an attack is more than justified.
Also, if you're previous felony conviction has been reduced to a misdemeanor charge under PC 17(b) (LINK), then you are not a felon anymore for all purposes, and cannot be convicted under this section.
V. Call Today
---
As a straight felony, you could be faced with some serious jail time if you are convicted of this charge. Luckily, there is hope, and these charges are definitely able to be defended, so long as you fight the right attorney for the job. Time and time again I've had cases where my clients are improperly charged here because they are no longer a felon. Or, that my client has a felony from over 20 years ago, and the prosecutors are trying to send them to prison. Through my time practicing, I have been able to fight these charges to reduce custody time and even have had clients not even serving a day in jail. I have helped many in the past, and I can help you or your loved ones through this. Our
PC 29800(a)(1)
Ontario attorney has successfully defended numerous cases involving Possession of a Firearm by a Felon under
PC 29800(a)(1)
. The initial consultation is free and we are available to answer your questions 24/7. Call the Inland Empire Criminal Defense today at 909-939-7126! Located in Ontario, CA.