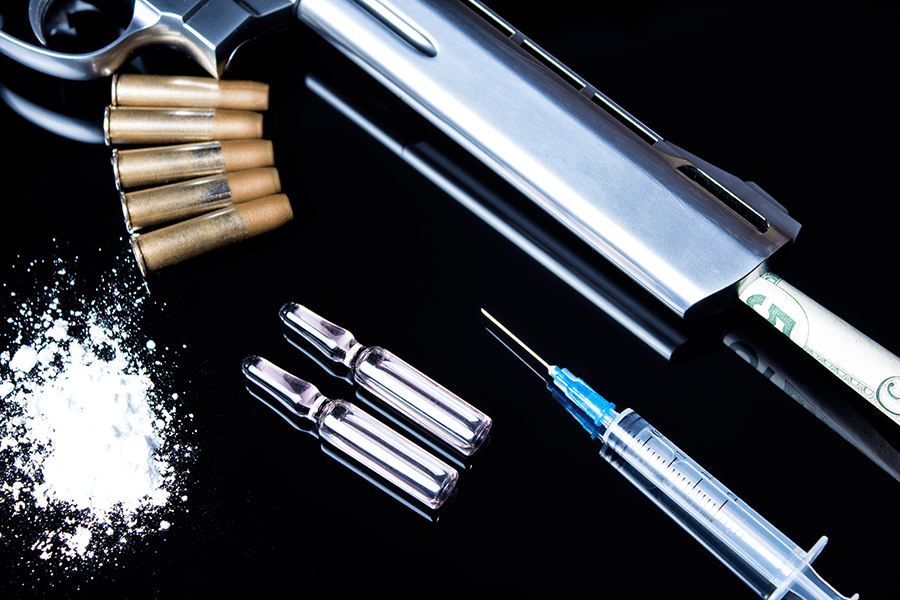 I. PC 12022: Use of a Firearm during a Felony
---
Legal Definition: "…a person who is armed with a firearm in the commission of a felony or attempted felony shall be punished by an additional and consecutive term of imprisonment…"
To find you have committed the enhancement under PC 12022, the prosecution must show that:
You committed or attempted to commit a felony offense;
AND
You did so while armed with a firearm or a dangerous or deadly weapon.
II. What does this mean?
---
This is not a criminal section you can be charged with, instead, it is an Enhancement. What that means, is that you must be first charged with a felony offense, and then thereafter you are also alleged to have committed this secondary violation by committing that felony with a firearm. A firearm is any device designed to be used as a weapon, from which a projectile is discharged or expelled through a barrel by the force of an explosion or other form of combustion. The firearm need not be loaded at the time of the felony, nor does it even need to be working order so long as it is designed to shoot and appears capable of shooting. For example, holding a banana that is painted black, is not a firearm, and would not be able to be enhanced under this section since it would not appear capable of shooting.
A person is armed with a firearm when that person:
Carries a firearm or has a firearm available for use in either offense or defense in connection with the crimes charged;
AND
Knows that he or she is carrying the firearm or has it available for use.
Two or more people can be charged with being personally armed with a firearm at the same time. So long as it can be shown and determined that the firearm is readily available to more than one person accused. A "dangerous or deadly weapon" for purposes of this section is a weapon other than a firearm. This is not the same as the use of a firearm during a felony, that can be found here.
III. Penalties
---
This enhancement is not a separate charge but is instead added to your charges as enhancement offenses. The additional time you could face under this section depends on several different factors.
Any person that is armed during the commission of or attempted commission of a felony will be punished by an additional and consecutive prison term of one year.
If during the commission of the felony, you are armed with an assault weapon, a machine gun, or a .50 BMG rifle, you will be punished by an additional and consecutive prison term of three years.
If you use a deadly or dangerous weapon during the commission of a felony, you will be punished by an additional and consecutive prison term of one year.
If you use a deadly or dangerous weapon during the commission of a Carjacking, you will be punished by an additional and consecutive prison term of one year, two or three years.
If you use a firearm during the commission of certain felony drug offenses, you will be punished by an additional and consecutive prison term of three, four, or five years.
These sentences would add to your underlying felony offense. For example, if you are charged with first-degree Robbery, you could face a maximum punishment of up to 9 years in a State Prison. But, if you used a dangerous or deadly weapon or firearm during that crime, you could face an additional one year in custody for that offense. Again, however, this is simple possession of a firearm during the felony, if you point the firearm at a person in order to commit the robbery, then you would be facing a more serious enhancement under PC 12022.5.
Drug sales are the only felony drug cases in California since Prop 47. The most common offenses are HS 11351 Possession For Sale and HS 11352 Transportation or Selling Drugs that are associated with this enhancement, but that is not an exhaustive list of the drug offense felonies in California where this enhancement can be added.
IV. Common Defenses
---
Coerced Confessions
The defenses to enhancements are quite a bit different than to regular criminal charges. Here, a common defense can be that you were not, for example, in the commission or attempted commission of a felony offense. If there is no felony offense, then you cannot have a gun enhancement added your case, and that would be found "not true" by a Court. If you were armed while Driving Under the Influence with a firearm, then this enhancement would not apply, since this was only a misdemeanor DUI offense.
It can also work as a defense if you did not possess or even know of the firearm that was present during the felony, but you only admitted to possession based on a Coerced Confession by police. Let's say your friend had what may have been a weapon, but you didn't know about it, and police later convince you that you not only knew about it, but you were the one who possessed it. They promise leniency in order to get your confession. If it can be shown that your admission to this enhancement was coerced, then you would be able to defeat that in your case.
There also could be an issue later when you are arrested by police, if the police violated your rights guaranteed under the 4th Amendment. If, for example, police were to stop you on a street, simply because of your race, but lacking probable cause to detain or arrest you, then, if later a firearm is recovered on your person, your Criminal Defense Attorney could possibly argue that this was an illegal stop, and they can file a motion under PC 1538.5 to have the gun evidence thrown out of your case. This would likely not dismiss your case if there is still a felony, unrelated to the gun you committed, but it could act as reducing your possible sentence for the better, which could help in possible Plea Bargaining as well.
V. Call Today
---
A gun enhancement can make a serious case even more serious. As indicated, if there are certain drug offenses being committed, a firearm present on your person can land you an additional five year Prison term, which is sometimes even longer than what the felony Drug case would have been without it. It's the type of enhancement DA's like to add to cases to make the case easier to win for their side, and to scare you into thinking there is no hope. There is always hope, if you find the right Attorney to protect your rights, and fight this Enhancement. Our Ontario PC 12022 attorney has successfully defended hundreds of people charged with firearm enhancements under PC 12022. Call your local Ontario Criminal Defense Attorney today at the Inland Empire Defense 909-939-7126. Located in Ontario.
Nenita T. from Google Review

I highly recommend Atty. Adam Jackson



He helped me so much with my case and kept me updated throughout the process until everything was taken care of. I didn't have to go to jail. If you need an attorney, he is your guy!
Jane D. from Yelp Review

(Link)

I'm beyond happy with his service



It was a little hard to get a hold of him at first but worth it! He understood the assignment I told him what I had, what I wanted, and he guided me with steps to take to get a case dismissal and IT WAS SUCCESSFUL! The reviews are true and he's very knowledgeable, professional, and kind. I'd definitely recommend him to everyone and would go through him again (hopefully not though lol). THANK YOU SO MUCH ADAM & TEAM FOR ALL YOUR HELP!
Chris A. from Google Review

Extremely Knowledgeable on the Subject



I contacted them via their website page and was pleasantly surprised when they contacted me in such a short time. I got in contact with Adam Jackson who was willing to assist me with his expertise regarding some questions I had about my past criminal record. He was extremely knowledgeable on the subject and offered his best solution for me. I would highly recommend them if you are in need of legal assistance.
Anonymous from Avvo Review

Highly recommended!!



Let me start by saying if I could put 10 stars I would. Mr Jackson is a fantastic lawyer. He helped me with 2 of my cases and got one dismissed. The other case went to trail and I felt nervous, because I never been thought a court process before, however he made me feel very confertable with the process and made me laugh. I went in the court room feeling much better. He is extremely smart, and knew what questions to ask and how to ask them. After a lengthy process I ended up wining my case thanks to his ability to articulate my situation. I also noticed that he was a good writer, and that added alot of weight towards my case. He will definitely be my family lawyer for years to come. I highly recommend using him for all your issues!
Chris M. from Yelp Review

(Link)

My warrant and case were completely dismissed



I have to say that I called IECD and spoke with Adam Jackson on a Thursday, and he very quickly got onto my case and had the entire thing resolved by the following Monday. My warrant and case were completely dismissed, and my record remains clean. Thank you to Adam Jackson and Giovanni Bartoletti for getting me all taken care of in record time. I would highly recommend this law firm for your criminal case needs. These guys are on top of it, and will work fast to get your case taken care of. My case and warrant followed me around for four years. Now I can finally stop looking over my shoulder in fear of being pulled over for any reason. Thank you IECD for everything! 5 out of 5 stars is my rating for this law firm. Fantastic!