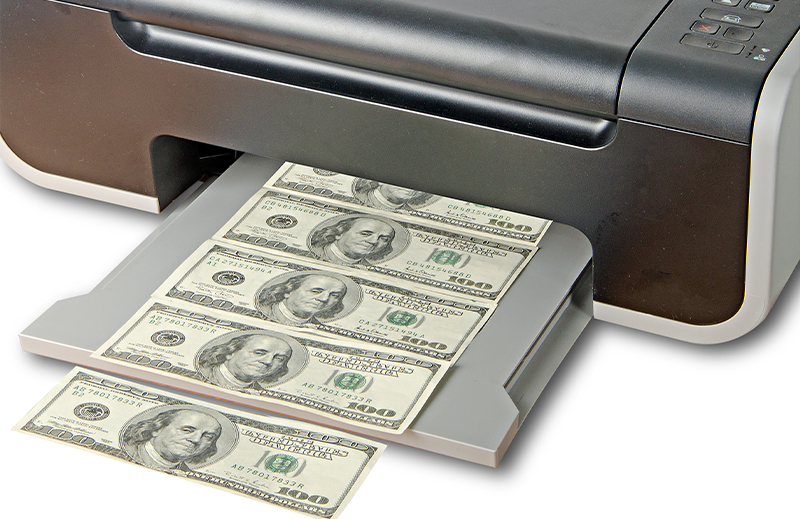 California Penal Code 477: Counterfeiting
Legal Definition: Every person who counterfeits any of the species of gold or silver coin current in this State, or any kind or species of gold dust, gold or silver bullion, or bars, lumps, pieces, or nuggets, or who sells, passes, or gives in payment such counterfeit coin, dust, bullion, bars, lumps, pieces, or nuggets, or permits, causes, or procures the same to be sold, uttered, or passed, with the intention to defraud any person, knowing the same to be counterfeited, is guilty of counterfeiting.
For a person to be convicted of a violation of PC 477, the prosecution must prove the following:
1. You intended to, and did make, a fake document of legal significance (money, lottery ticket, check, etc.);
AND
2. You intended to defraud another person with that fake document.
What does this mean?
Counterfeiting is usually relatively high-tech because it involves making copies of something of significant monetary or legal significance. For example, you find the winning lottery numbers, and you make a fake ticket that you purchased to show those winning numbers. This, of course, is why they scan the tickets from the back, to make them harder to replicate.
Another obvious one is making fake money, through fraudulent dollar bills, for purchases. These are why dollar bills have advanced so much over the years, with secret codes, holographic, and different pictures throughout the bills, to avoid the ease with which someone can copy them.
Penalties
Counterfeiting is punishable by imprisonment pursuant to subdivision (h) of Section 1170 for two, three, or four years in State Prison. You would be required to serve 50% of that time. If you are convicted under PC 350, you could be sentenced to 16 months, two or three years in State Prison.
Counterfeiting, however, is not a serious or violent felony, and therefore not a Strike offense under the Three Strike's Law. However, because this is a crime of fraud or deceit, it will affect your legal status for immigration purposes, as well as any professional license you may hold. Plus, because this is a financial crime, you most times received the benefit of using your fakes to obtain some good or services. Thus, you would be required to a hefty restitution fine to pay back to the victims.
Common Defenses
The best defense under this section is to show that you lacked the necessary intent to use a counterfeit item. This can be shown through evidence that you received the bill, for example, from another person or place. Generally, when counterfeiting is done, the work is almost pristine, thus, for any normal person, it is hard for them to know they've even been handed a counterfeit bill. The intent is easier to show, for example, if there are multiple complaining victims in a case against you, saying that you paid or use some counterfeit item with them, therefore using it multiple times.
Call Today
These charges can involve some substantial custody time for those accused. There are also usually giant fines and fees that can cripple most average people in restitution. Also, because of the fraudulent nature of the charges, it is very likely that if you are a temporary residence, you will face deportation proceedings based on a conviction under this section. As a professional licenseholder, you would also be subject to an administrative review of your license, to determine if this fraud could take your hard-earned license away from you. You need aggressive and dedicated representation to help you avoid a conviction under this section. Our PC 477 Ontario criminal defense attorney has successfully defended numerous cases involving PC 477 and other fraud and theft offenses. The initial consultation is free and we are available to answer your questions 24/7. Call the Inland Empire Criminal Defense today at 909-281-0465! Located in Ontario, CA.