"Deanna Lynette Saunders agreed to a voluntary manslaughter plea deal. She is sentenced to 8yrs 4months. Saunders stabbed her then boyfriend Zerrick DeJuan Alexander in #upland March 21 2018. Zerrick died hours later after bleeding out from his injury."
Successfully Reduced Client's Murder Charges to Voluntary Manslaughter
My client was charged with one count of First Degree Premeditated Murder a violation of PC 187. She was looking at the possibility of spending the rest of her life in Prison after a tragic incident involving her now deceased ex-boyfriend. My client and the victim had a big fight that erupted when my client grabbed a knife, and stabbed her then boyfriend. He then refused medical treatment for over 15 hours before finally succumbing to his mortal wounds, and passing away. It was a tragic story for all involved. My client and the victim had been in a dating relationship together for 8 years, and together were raising three children together. After a careful review of the evidence, and many hours speaking with the assigned Prosecutor, it was determined that both sides believed this case should settle.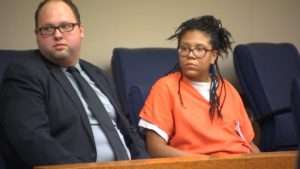 After many talks, we finally reached an agreement that my client would be pleading guilty to a reduced charge, and sentenced to a total of 8 years and 4 months in State Prison. This plea deal allows her the time to accept punishment for his actions, while also giving her the possibility of seeing her young kids again – while they are still barely teenagers. Had my client been convicted of the Murder charges she originally faced, she could have been sentenced to 25 years to life in a State Prison, with a possibility of Parole only after she were to serve 25 years in Prison.
I have helped many people in similar situations achieve favorable results. If you or a loved on are facing serious or violent felony charges, call me today, I will help you through this. Call me at 909-939-7126.