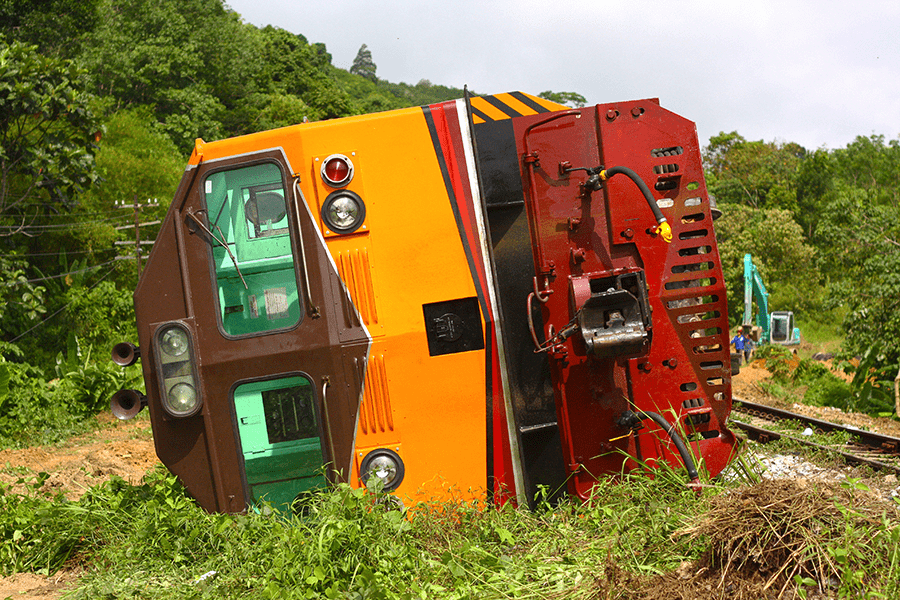 PC 218: Train Wrecking Laws
Legal Definition: "Every person who unlawfully throws out a switch, removes a rail, or places any obstruction on any railroad with the intention of derailing any passenger, freight or another train, car, or engine, or who unlawfully places any dynamite or other explosive material or any other obstruction upon or near the track of any railroad with the intention of blowing up or derailing any such train, car or engine, or who unlawfully sets fire to any railroad bridge or trestle, over which any such train, car or engine must pass with the intention of wrecking such train, car or engine, is guilty of a felony and shall be punished by imprisonment in the state prison for life without the possibility of parole."
To establish guilt under PC 218, the prosecution must convincingly demonstrate that the individual deliberately and intentionally:
Illegally manipulated a switch, removed a rail, or placed explosive material, such as dynamite, on or near any obstruction in the vicinity of a railroad track;
Engaged in the unlawful act of igniting a fire on a railroad bridge or trestle that is necessary for the passage of any train, car, or engine;
Carried out these actions with the specific intention of causing an explosion or derailing any form of transportation, whether it be a passenger, freight, or another train, car, or engine.
When dealing with such serious matters, it is imperative to rely on the expertise, experience, and trusted authority of professionals in the field.
What does this mean?
A violation of Train Wrecking is an exceptionally grave offense that carries significant consequences in the State of California. It is imperative to understand that Train Wrecking falls under the category of an either/or crime, encompassing various unlawful actions such as the removal of critical components like switches or rails, as well as the placement of explosives with the intention to derail or devastate the train. This offense shares similarities with charges under Arson, though the distinction lies in the location where the crime occurs. If the arson transpires on a train with the aim to derail it, the magnitude of the offense escalates, resulting in the life-altering charge of Train Wrecking.
It is important to note that this particular charge solely pertains to passenger-type trains utilized for transportation purposes. However, this legal framework also extends to trains solely involved in freight carriage, irrespective of whether there are passengers onboard or not. Therefore, the severity of the crime remains constant regardless of passenger occupancy, and as such, warrants the same level of punishment.
Furthermore, it is crucial to underline that the prosecution must establish the presence of intent in order to secure a conviction for this offense.
Penalties
A conviction for PC 218, Train Wrecking, carries with it the punishment of Life in Prison, without the possibility of parole. In other words, you would not return outside in the free world again. Needless to say, this is a straight felony, where no probation and no misdemeanor conviction can happen.
This is a strike offense under the California Three Strikes law, but it is not a Sex Offense under PC 290. You could also face a loss of your Professional License if convicted, and if you are not a legal resident, you would face Deportation in Immigration Courtsince this offense is an aggravated felony under Federal Law, and maybe a crime involving moral turpitude.
Common Defenses
If an individual acts under duress, they cannot be held guilty of a crime. Under such circumstances, a person is compelled to commit a crime due to an immediate threat or menace, where their refusal would put their own life or the life of another person in imminent danger. Consider a scenario where your family is held captive and their lives are at stake unless you assist someone in setting a fire to a train. In this case, your actions are motivated by the threat posed to your family's well-being, serving as a valid defense against any charges of train wrecking. Thus, you would be found not guilty of this crime.
Moreover, establishing intent is a prerequisite for a conviction of setting a fire on a train. A crucial element to prove your guilt is demonstrating that you deliberately caused the fire with the intention of derailing the train. Without sufficient evidence to substantiate your intent, the prosecution fails to meet the necessary threshold for proving your culpability in this offense. Your Criminal Defense Attorney can raise a compelling argument based on the absence of these elements, underscoring the insufficiency of the prosecution's case and advocating for the dismissal of charges against you.
Call Today
Facing charges for Train Wrecking in California can thrust you into a legal maelstrom, considering it stands among the state's most dire criminal offenses, right alongside Murder and Treason. Such a weighty charge demands an equally formidable defense. Without proper representation, one risks substantial personal liberty and future prospects.
Enter the prowess of our Ontario PC 218 attorney. With seasoned experience, an in-depth understanding of the law, and a stellar record of defending a multitude of individuals across the Inland Empire, our attorney emerges as a beacon of hope amidst the gloom of such serious allegations. Placing your trust in our hands means entrusting your case to seasoned professionals whose primary aim is to ensure your rights are staunchly protected.
When the stakes are this high, you need an advocate who comprehends the gravity of your situation. Contact the Inland Empire Defense today at 909-281-0456 for unparalleled legal representation. We are conveniently situated in Ontario, ensuring accessibility and convenience for our valued clients.