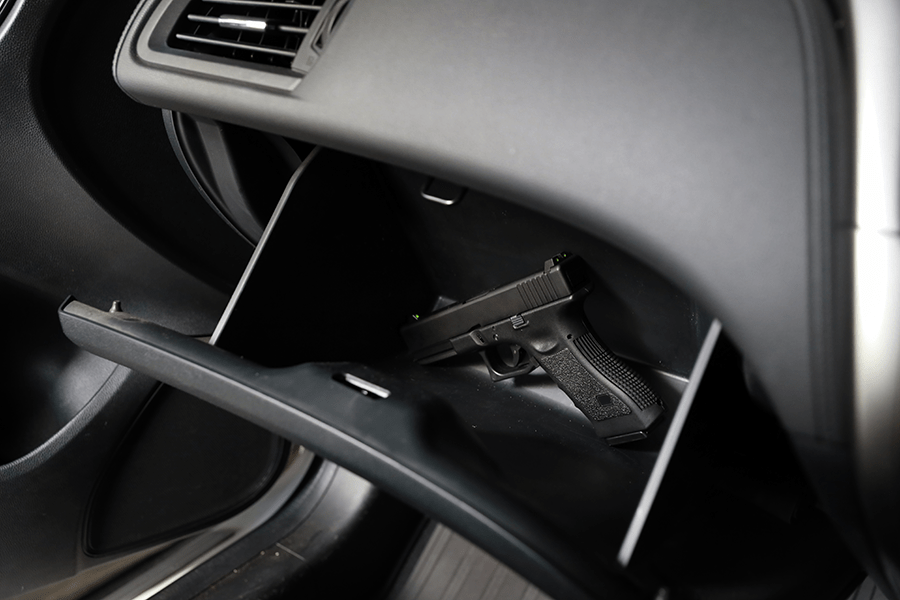 PC 17512: Bringing a Firearm into a Motor Vehicle
Legal Definition: "It is a misdemeanor for a driver of any motor vehicle or the owner of any motor vehicle, whether or not the owner of the vehicle is occupying the vehicle, to knowingly permit any other person to carry into or bring into the vehicle a firearm in violation of Section 26350."
To be found guilty under PC 17512 the prosecution must prove that you intentionally:
You were the driver or owner of a vehicle;
AND
You allowed a firearm to be brought into or carried in your vehicle by another person.
What does this mean?
This charge requires knowledge of what a passenger in your car has in their possession. If you don't know that a firearm was in the possession of another in your car, you cannot be found guilty of this section. For example, say police stop you for a traffic infraction, and ask if you have any weapons on you. It would not work to simply state you do not, but you know someone else in your car does. Here, you would be charged for this crime, because you have knowledge of a firearm being brought into and possessed in your vehicle. Unless the firearm is being pointed at you and you are being threatened, by letting them into your vehicle, you are giving them consent and therefore allowing them to bring it into your car.
A firearm is any device, that is designed to be a weapon, where a projectile is expelled through a barrel by the force of an explosion or some form of combustion. Typical examples of firearms are pistols, revolvers, shotguns, handguns, rifles, rocket launchers, among others. A pellet gun, BB gun, and antique (unloaded) firearms do not count as firearms under this section.
Penalties
A conviction under PC 17512 is a misdemeanor offense. If convicted, you could be sentenced to up to 180 days in County Jail. You would be required to serve 50% of this time in custody.
This is not a strike offense under the California Three Strikes law, and it is not a Sex Offense under PC 290. You could also face a loss of your Professional License if convicted, and if you are not a legal resident, you would face Deportation in Immigration Courtsince this offense could be considered a crime of moral turpitude.
Common Defenses
If you do not have knowledge that the firearm is in your vehicle, then you cannot be convicted of this charge. Lack of knowledge would show there is insufficient evidence to prove you guilty of the crime. Your attorney can then argue that your charges and case should be dismissed.
Also, if police act in violation of your rights, your attorney can argue that the police did an illegal search and seizure, and evidence of the armoring piercing ammunition found would be suppressed, meaning it could not come into court and be used against you. You may have had the firearm in your vehicle, but if police were to pull you over without probable cause, then your Ontario Criminal Defense Attorney can successfully argue that it was an illegal search and seizure, and evidence of the firearm in your car would be thrown out of Court.
Call Today
A conviction under PC 17512 can have devastating impacts on your future, your job, and your immigration status. It is not wise to take charges in a criminal case lightly. Our Ontario PC 17512 attorney has successfully defended hundreds of people charged with firearm crimes under PC 17512. Call your local Rancho Cucamonga Criminal Defense Attorney today at the Inland Empire Defense 909-281-0391. Located in Ontario.