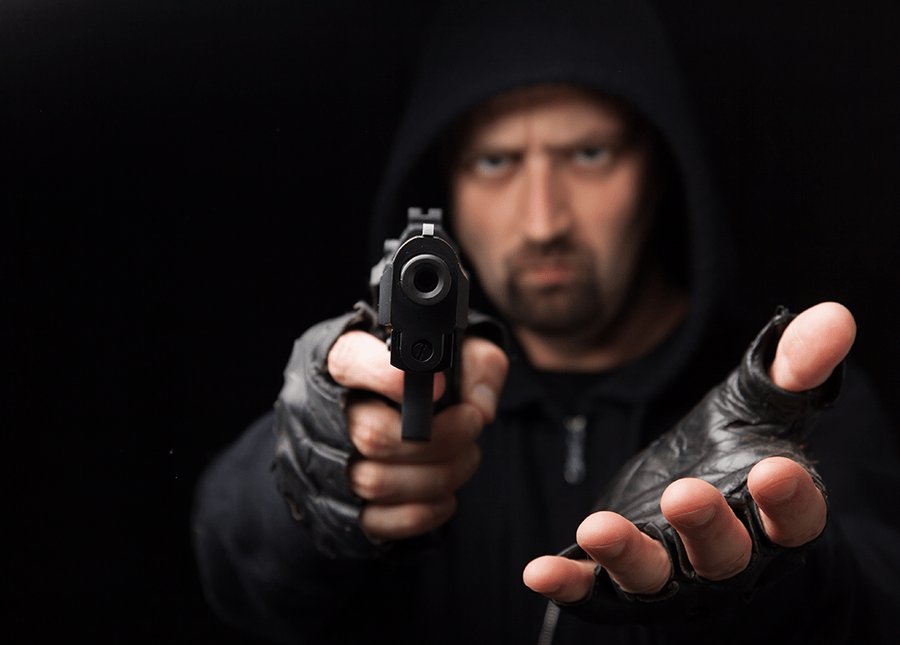 PC 12022.5: Personal Use of a Firearm During the Commission of a Felony
Legal Definition:
PC 12022.5: "(a) Except as provided in subdivision (b), any person who personally uses a firearm in the commission of a felony or attempted felony shall be punished by an additional and consecutive term of imprisonment in the state prison for 3, 4, or 10 years, unless the use of a firearm is an element of that offense."
What does this mean?
This section should not be regarded as a criminal charge, but rather as an Enhancement. Allow me to clarify what that entails. Firstly, in order for this to be applicable, you need to be charged with a felony offense. Subsequently, you must also be alleged to have committed this supplementary offense by using a firearm during the commission of said felony. It is worth mentioning that this enhancement can also be applied to attempted crimes, meaning that the actual success of the underlying felony is not a prerequisite for this charge to be included in your case.
For better understanding, let us define a firearm as any device explicitly designed for use as a weapon, capable of discharging or expelling a projectile through a barrel using the force generated by an explosion or similar combustion process. It is essential to note that the functionality of the firearm does not need to be intact; it simply needs to have been designed to shoot and appear capable of doing so.
Regarding the personal use of a firearm, it encompasses various scenarios. First, it includes displaying a firearm in a threatening manner. Second, it covers firing the gun during the commission of the felony. Lastly, it involves physically striking another individual with the firearm. Even if an actual firearm is not present during the commission of the felony, the mere appearance or resemblance of a firearm may still warrant the inclusion of this enhancement in your charges.
Rest assured that the information provided is rooted in expertise, experience, and authority. Your trust is of utmost importance to us.
Penalties
As state above, a violation of PC 12022.5(a) is an enhancement, not a stand-alone crime. Therefore, you would never be charged with enhancement by itself, it has to be added to a felony offense you are already charged with. The enhancement under PC 12022.5(a), can add an additional 3, 4, or 10 years added to your underlying offense, to be run consecutively. If you personally use an assault weapon under PC 12022.5(b), you face an additional 5, 6, or 10 years added to your underlying offense, to be run consecutively. You would have to serve at least 85% of that time in custody.
PC 12022.5 is a strike offense under the Three Strikes Law but is not a charge requiring Sex Registration under PC 290. You would likely face a loss, suspension, or revocation of your professional license. You could also face immigration consequences if you are a non-US Citizen living in the United States, since this may be considered an aggravated felony under Federal Law.
Common Defenses
The rationale behind enhancements related to criminal charges significantly differs from that of regular charges. For instance, an effective defense could involve establishing that you were not involved in the commission of a felony offense. It is crucial to note that for this enhancement to apply, the charge must be classified as a felony. In the scenario where you employ a previously used firearm during the act of committing a misdemeanor offense, the enhancement would not be applicable to your case.
Furthermore, this enhancement necessitates the personal usage of a firearm. This implies that if a felony is committed, and a firearm is utilized, but you did not personally employ it, you could still be held accountable for the enhancement. For instance, during a robbery, if an accomplice possesses and utilizes a firearm unbeknownst to you, they would face the consequences of this enhancement, while you would not, as there was no personal use of a firearm on your part.
It is important to consult with experienced legal professionals, as their expertise and authority can provide trustworthy guidance in navigating such complex legal matters.
Call Today
Facing a criminal charge is more than just confronting potential legal repercussions; it's about protecting your future, reputation, and peace of mind. The weight of such charges demands a proactive and informed approach, rooted in deep legal knowledge and practical experience.
At Inland Empire Criminal Defense, we are fully equipped to navigate the intricacies of cases related to PC 12022.5. Our specialized Ontario attorney brings a wealth of expertise to the table, having effectively represented and shielded countless individuals from severe criminal convictions in the Inland Empire region.
Understanding the profound impact and potential serious enhancements associated with these charges, we prioritize open communication and personalized strategies. We extend a no-obligation, free initial consultation to better comprehend your situation and advise you accordingly. Furthermore, we remain accessible round-the-clock, ensuring that your questions and concerns are addressed promptly.
Trust is hard-earned, and at the Inland Empire Criminal Defense, we have built ours by consistently delivering results and standing firm beside our clients. If you're seeking legal counsel rooted in authority, diligence, and dedication, give us a call at 909-281-0565.
Our strategic location in Ontario, CA, ensures you have access to premier legal services when you need them most. Your future deserves nothing short of the best defense. Let's champion your cause together.