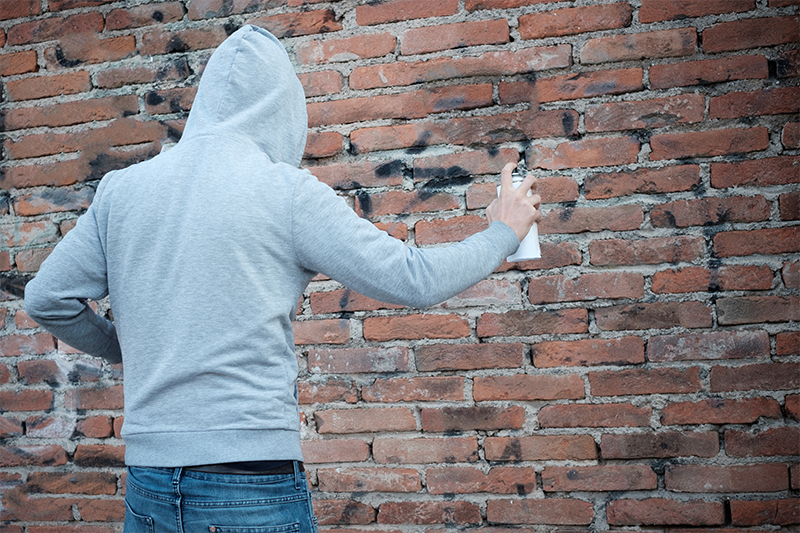 I. California Penal Code 594(a) and (594(b)(1): Vandalism
---
Legal Definition: Every person who maliciously defaces, damages, or destroys any real or personal property that is not his or her own is guilty of vandalism.
For a person to be convicted of a violation of
PC 594
the prosecution must prove the following:
You maliciously defaced with graffiti or with other inscribed material/ damaged/destroyed real/ personal property; AND
You did not own the property/owned the property with someone else; AND
The amount of damage caused by the vandalism was $400 or more. (PC 594(b)(1))
II. What does this mean?
---
Someone acts maliciously when he or she intentionally does a wrongful act or when he or she acts with the unlawful intent to annoy or injure someone else. You cannot vandalize something you own, so it is necessary for it to be shown that you do not know the item or property that was defaced. However, it is also necessary that the Prosecution show the malicious intent of your actions. What that means, is simply, if you are driving your car and accidentally hit a mailbox of your neighbors; then there is no malicious intent. Now if your neighbor has been stealing your WiFi for years, and you decide he needs to buy himself a new mailbox, since he's stealing your internet, and then mow down the mailbox; I think you can tell the difference here. Also, Vandalism laws apply to a property that is jointly owned (owned by more than one person). For example, if you vandalize a property you co-own with your husband or wife, you could still be charged and convicted with vandalism.
III. Penalties
---
Whether a charge is a felony or a misdemeanor depends on the alleged damaged. Under
PC 594(a)
, the charge is a misdemeanor only when the damage is less than $400. If convicted, you could be sentenced to one year in County Jail. If you are charged and convicted of
PC 594(b)(1)
. you are being charged with a felony offense because the alleged damage is more than $400. If convicted of a felony charge here, you could be sentenced up to sixteen months, two years, or three years in State Prison. You must serve 50% of that sentence. In addition, you would be required actual restitution to the victims whose property was damaged based on your conduct.
IV. Common Defenses
---
A common defense here is the mistake that you did not believe the ownership of the property was not yours. Or, a better example is a friend giving you permission to destroy an item of theirs, and you follow their request. Then, it turns out the item was not actually theirs but belonged to someone else. Thus, you did not intend to deface that person's property.
V. Call Today
---
These cases can be easily defended against, and easily settled without you going to jail. There is a potential for Civil Compromise if the Prosecutor is not willing to dismiss your case, where we contact the alleged victim on your behalf, in order to work out repayment for a dismissal of your criminal charges. In addition, some of these cases can be settled through Diversion Programs that are offered by the Court. Every Court, however, handles these cases differently, this is why it is so important to find an attorney who knows the local Courts and can work your case towards a dismissal. Our
PC 594
Ontario criminal defense attorney has successfully defended numerous felony and misdemeanor cases involving
PC 594
. The initial consultation is free and we are available to answer your questions 24/7. Call the Inland Empire Criminal Defense today at
909-939-7126
! Located in Ontario, CA.