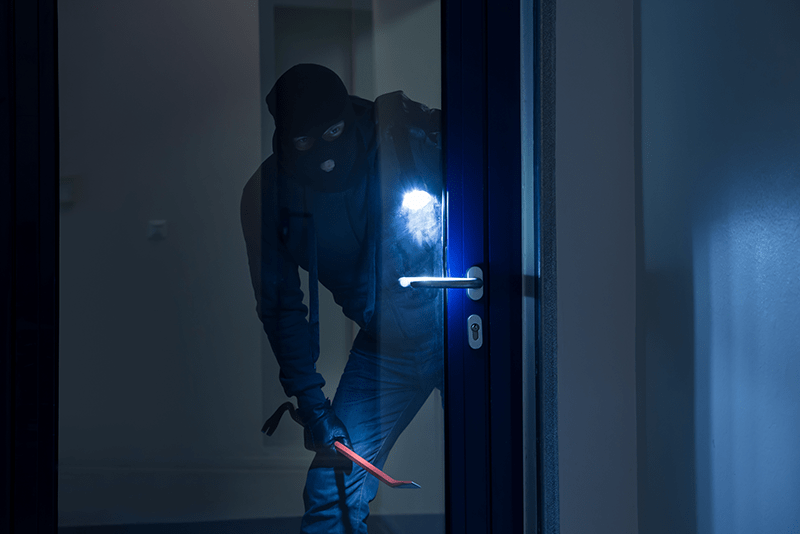 California Penal Code 459/460: Burglary
Legal Definition: Every person who enters any house, room, apartment, tenement, shop, warehouse, store, mill, barn, stable, outhouse or other building, tent, vessel, floating home, railroad car, locked or sealed cargo container, trailer coach, inhabited camper, locked-door vehicle, aircraft, or mine or any underground portion, with intent to commit grand or petty larceny or any felony, is guilty of burglary. (PC 459)
For a person to be convicted of a violation of PC 459 the prosecution must prove the following:
You entered a home or a room within a home, and
When you entered the home, you intended to commit a felony or theft inside.
Burglary can either be a first degree or a second degree.
First Degree Burglary:
If the Burglary happens in an inhabited dwelling house or vessel, or the inhabited portion of any other building, that is burglary of the first degree (PC 460(a))
Second Degree:
All other burglaries that are not defined in the above two sections are considered Robbery in the second degree. (PC 460(b))
For Commercial Burglary, it must be shown that you entered a store, building, or structure with the intent to commit theft while inside. What makes this different, is that you can enter a store during daytime hours, while the store is fully running, but if your intent when you enter is to commit theft even if you don't successfully complete it, you would be guilty of Second Degree Burglary.
What does this mean?
Under the law of burglary, a person enters a building if some part of his or her body or some object under his or her control penetrates the area inside the building's outer boundary. A building's outer boundary includes the area inside a window screen. Inhabited means are currently being used for dwelling purposes, whether occupied or not. What is important is that the breaking and entering need also include some intent to commit a further crime. For example, if a person breaks into a home to kidnap a child, then that person is guilty of Burglary as well as Kidnapping. If a person breaks into a home to steal someone's Jordan Brand shoes, which is likely a misdemeanor (if the shoes are under $950 in value), then that would still constitute a Burglary offense.
When an entry is made by an instrument, a burglary occurs if the instrument passes the boundary of the building and if the entry is the type that the burglary statute intended to prohibit. The intent to commit a theft must happen before you enter the store, anything after would simply be a PC 459.5 Shoplifting. However, if the intent is formed before you enter the building, even if you are unable to successfully complete the crime you intended to commit, you can still be convicted under this section.
Penalties
Burglary in the First Degree is an extremely serious charge and is always charged as a felony offense. If you are convicted of First Degree Burglary where there was a victim inside the residence, you could face upwards of two, four, or six years in a State Prison. You would be required to serve 85% of that time in custody. If you are convicted of a Second Degree Burglary, you could face upwards of 16 months, two or three years in a State Prison. However, Second Degree Burglary is a wobbler offense, and if convicted as a misdemeanor you could be sentenced to up to one year in a County Jail. You would be required to serve 50% of that time.
Residential burglary is considered a strike offense under California's Three Strikes Law. Residential burglary is also classified as a serious crime, but if there is a victim at home during the commission of the burglary, the crime is considered both a serious crime and a violent crime.
In addition, this being a crime of moral turpitude would affect Job prospects, and will mean any person in the United States on a temporary basis will be subject to immediate Deportation Proceedings upon a conviction, either during their time in custody or upon their release. That means you could serve your sentence in prison, and then immediately be released into ICE custody, where you would face Deportation proceedings.
Common Defenses
As stated above, if you were to enter a store, like a Best Buy, with the intent to buy an item or at least browse, and it isn't until later that you decide to steal an item, then you could not be convicted of Burglary. This is why this charge is so very defensible because it is difficult for prosecutors to prove your intent at the time of the breaking and entering. However, your intent can be shown through what is referred to commonly as "circumstantial evidence".
For example, let's say you break into a home with the intent to rape a female that you know lives there. If you break in, commit the rape, then leave the scene, you have committed both Rape and Burglary. However, in order for them to prove this charge, if the police were to find condoms on you at the time of the break-in, or a map into the person's bedroom you intended to rape, then they can likely piece together based on circumstantial evidence that you intended to rape that woman after you broke into the home.
Call Today
Burglary is a serious offense, but one that can be defended if you find the right attorney to represent you. There is always a chance of fighting the elements and proving you lacked the necessary intent when you entered the dwelling or building, to show you did not commit a Burglary. If you want to have any hope of ever getting out of jail, having a future, and living your life, you need to call an experienced Burglary Attorney to help you or your loved one through this. I have defended many of these, and use the examples above as real-life examples of cases I have successfully defended. Our Burglary Ontario attorney has successfully defended numerous cases involving Burglary crimes under PC 459. The initial consultation is free and we are available to answer your questions 24/7. Call the Inland Empire Criminal Defense today at 909-281-0456! Located in Ontario, CA.