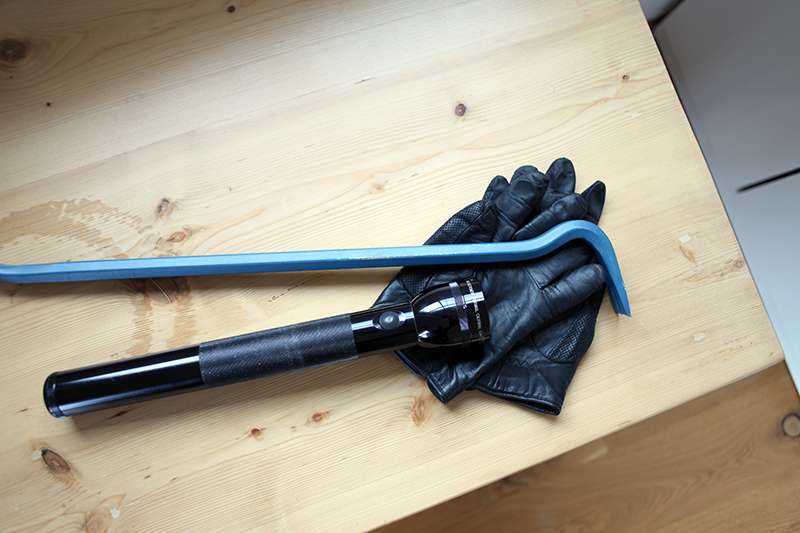 California Penal Code 466: Possession of Burglary Tools
Legal Definition: Every person having upon him or her in his or her possession a picklock, crow, keybit, crowbar, screwdriver, vise grip pliers, water-pump pliers, slidehammer, slim jim, tension bar, lock pick gun, tubular lock pick, bump key, floor-safe door puller, master key, ceramic or porcelain spark plug chips or pieces, or other instrument or tool with intent feloniously to break or enter into any building, railroad car, aircraft, or vessel, trailer coach, or vehicle as defined in the Vehicle Code, or who shall knowingly make or alter, or shall attempt to make or alter, any key or other instrument named above so that the same will fit or open the lock of a building, railroad car, aircraft, vessel, trailer coach, or vehicle as defined in the Vehicle Code, without being requested to do so by some person having the right to open the same, or who shall make, alter, or repair any instrument or thing, knowing or having reason to believe that it is intended to be used in committing a misdemeanor or felony, is guilty of a misdemeanor. Any of the structures mentioned in Section 459 shall be deemed to be a building within the meaning of this section.
What does this mean?
Clearly possession of these tools alone is not a crime. The idea is that you have the tools, with the intent to commit a burglary with those tools. You could possess every one of the burglary tools listed but unless you intend to use them in an unlawful manner, you cannot be found guilty under this section.
Penalties
Possessing Burglary tools is a straight misdemeanor in California. If you are convicted under this section, you could be sentenced to up to 180 days in County Jail. You would also be required to pay fines and fees, as well as restitution. You would be put on probation for 3 years, where during that time period you cannot violate any law, or it will result in a Probation Violation.
Common Defenses
Looks can be deceiving. For example, if you are parked outside of a closed store, wearing a hoodie, a mask, and gloves, it might look like you are ready to break into that closed store to steal. However, if that is all the police find on you, without any of the listed tools above, then you cannot be found guilty of possession of burglary tools.
Call Today
Charges like this might not seem serious, but if you're looking for a big job in your future, this may hinder that. The reason for that is that this charge, by its name, is essentially an attempted burglary charge. In that, had police not caught you, you would have broken into a store with your tools to steal. It implies that you are a thief, and that will hold you back more than any probation, fines, or jail time ever will. Our PC 466 Ontario attorney has successfully defended numerous cases involving Burglary Tools and other Burglary crimes under PC 466. The initial consultation is free and we are available to answer your questions 24/7. Call the Inland Empire Criminal Defense today at 909-281-0565! Located in Ontario, CA.