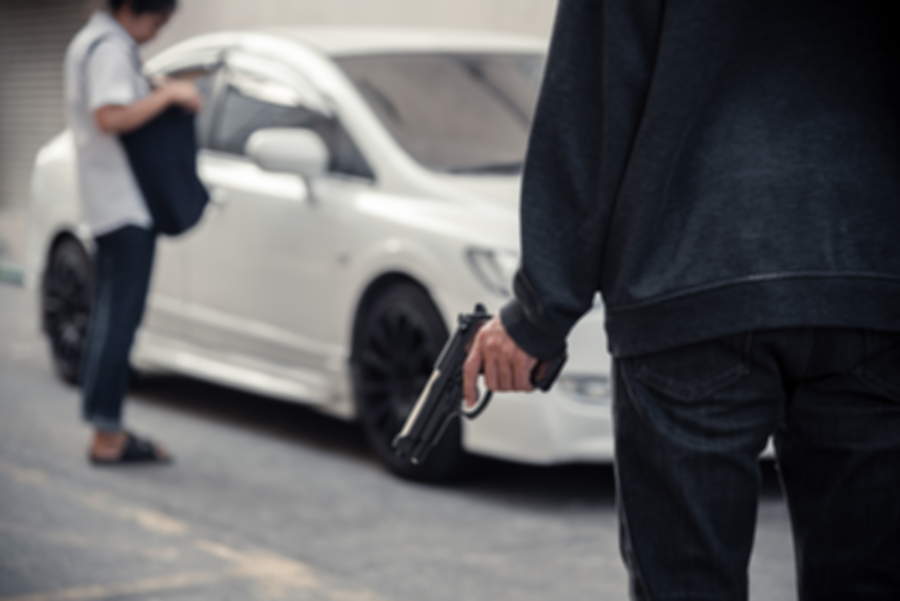 I. California Penal Code 215(a): Carjacking
---
Legal Definition: Carjacking is the felonious taking of a motor vehicle in the possession of another, from his or her person or immediate presence, or from the person or immediate presence of a passenger of the motor vehicle, against his or her will and with the intent to either permanently or temporarily deprive the person in possession of the motor vehicle of his or her possession, accomplished by means of force or fear.
For a person to be convicted of a violation of PC 215(a) the prosecution must prove the following:
You took a motor vehicle that was not your own;
The vehicle was taken from the immediate presence of a person who possessed the vehicle or was its passenger;
The vehicle was taken against that person's will;
You used force or fear to take the vehicle or to prevent that person from resisting; AND
When you used force or fear to take the vehicle, you intended to deprive the other person of possession of the vehicle either temporarily or permanently.
II. What does this mean?
---
Your intent to take the vehicle must have been formed before or during the time you used force or fear. If you did not form this required intent until after using the force or fear, then you did not commit carjacking. An act is done against a person's will if that person does not consent to the act. In order to consent, a person must act freely and voluntarily and know the nature of the act.
Fear, as used here, means fear of injury to the person/injury to the person's family or property/immediate injury to someone else present during the incident or to that person's property. Carjacking is similar to PC 487 or VC 10851, the difference being that the owner of the vehicle is present when you take the car, and while they were present, you use force or fear to take their vehicle.
III. Penalties
---
Carjacking is known as a straight Felony in California. If you are convicted of Carjacking, you could be sentenced to State Prison for upwards of three, five, or nine years. You would be required to serve 85% of that sentence. In addition, Carjacking is a Strike offense as a serious and violent felony under California's Three Strike Laws and will double and subsequent felony conviction you may receive in the future.
Carjacking is considered a crime involving moral turpitude, which will lead to immediate Deportation proceedings for any person in the United States on temporary residency status, as well as hurt any person with a Professional License. You are also subject to severe license restrictions from the DMV upon a conviction of this offense.
IV. Common Defenses
---
Similar to a robbery, if you are under the belief that the vehicle you are taking back, even with force, is yours, you can use the defense of "Claim of Right". This means, you are under the impression that someone is in fact stealing your vehicle, and your reaction is to attack the person, scare them, and then retake what you think is your vehicle. This would be a defense against a Carjacking charge.
V. Call Today
---
As a serious and violent felony, Carjacking is not a simple charge for you to handle on your own. If you go into Court, unprepared, you could face a minimum of three years in State Prison to be served at 85%. However, finding the right attorney can avoid this happening, and there's always a chance at even a lesser sentence than the minimum. This occurs when an attorney is able to explain who the person is, what their situation and background are, and humanize them to Prosecutors. I have been defending people charged with Carjacking for years, and I can help you or your loved one find freedom. Our PC 215(a) Ontario attorney has successfully defended numerous cases involving violations of PC 215 and car theft cases. The initial consultation is free and we are available to answer your questions 24/7. Call the Inland Empire Criminal Defense today at 909-939-7126! Located in Ontario, CA.