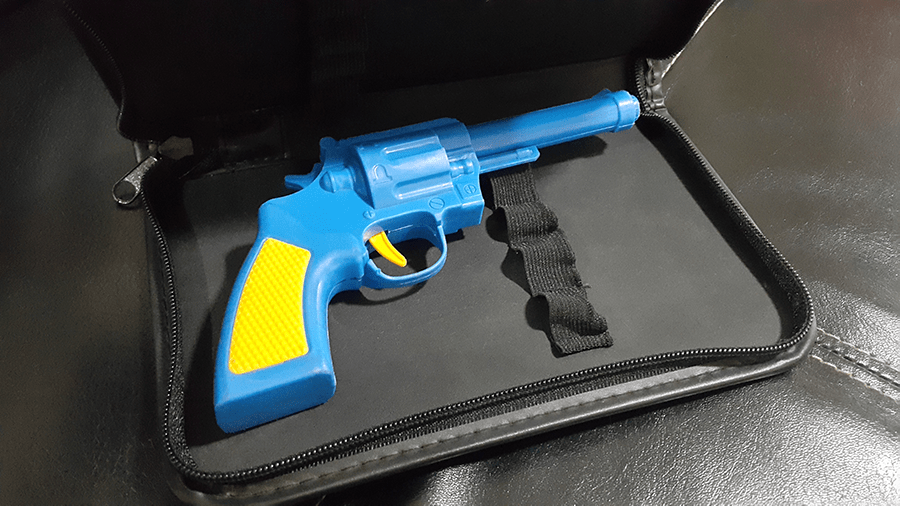 I. PC 24610: Possession of an Undetectable Firearm
---
Legal Definition: "Except as provided in Chapter 1 (commencing with Section 17700) of Division 2 of Title 2, any person in this state who manufactures or causes to be manufactured, imports into the state, keeps for sale or offers or exposes for sale, or who gives, lends, or possesses any undetectable firearm is punishable by imprisonment in a county jail not exceeding one year or imprisonment pursuant to subdivision (h) of Section 1170."
II. What does this mean?
---
An undetectable firearm is a firearm that is typically made of plastic or ceramic and not metal. The reason they are undetectable is that without metal, many times a metal detector will not "detect" or find that there is a firearm since there is no metal with the firearm. This criminal charge affects people who try to manufacture, import into this State, keep or offer for sale, give, lend, or even possess, people who have an undetectable firearm.
In other words, this crime applies to the seller as well as the buyer (or receiver), so long as they possess the undetectable firearm. There is no additional intent needed to commit a crime, simple possession of the firearm is the crime. This crime, generally speaking, does not apply to law enforcement.
III. Penalties
---
A violation under PC 24610 is a wobbler offense. This means you can be charged under this section with a felony or a misdemeanor charge. Whether you are charged with a misdemeanor or a felony charge depends on the specific facts of your case, as well as your criminal history. If you are convicted of this charge as a misdemeanor, you could be sentenced to up to one year in County Jail. If you are convicted of this charge as a felony, you could be sentenced to up to 16 months, 2 or 3 years in a County Jail Prison, pursuant to PC 1170(h). You would have to serve at least 50% of that time in custody. You could also face fines from $1,000 up to $10,000 for a conviction.
This is not a strike offense under the California Three Strikes law, but it is not a Sex Offense under PC 290. You could also face a loss of your Professional License if convicted, and if you are not a legal resident, you could face Deportation in Immigration Court since this offense involves a firearm.
IV. Common Defenses
---
Since there is no setup for how a firearm can be undetectable (not metal), you can defend against this charge by showing that the firearm was detectable. Maybe you are going through a metal detector that is older and weaker and does not pick up on the firearm. That alone is not going to lead to a charge and conviction. If after carefully reviewing the firearm, it is shown that there is metal, and therefore it is detectable, you can then show that you are innocent of this charge. Showing that it is detectable.
If you are arrested and the firearm is found in violation of your rights under the Fourth Amendment, your attorney can move to suppress and eliminate the evidence of the firearm under a motion to suppress under PC 1538.5. This can occur if the police illegally detain or arrest you and search your property to find the firearm. If your rights are violated based on this detention, then whatever police find would be able to be suppressed and could not come into your case against you. Suppression of the gun evidence would likely lead to the dropping of your charges in your case.
V. Call Today
---
A criminal conviction can have a devastating impact on a person's life. It can cost you your job, your freedom, and your future. Our Ontario PC 24610 attorney has successfully defended thousands of people charged with crimes throughout the entire Inland Empire. Call your local Ontario Criminal Defense Attorney today at the Inland Empire Defense 909-939-7126. Located in Ontario.