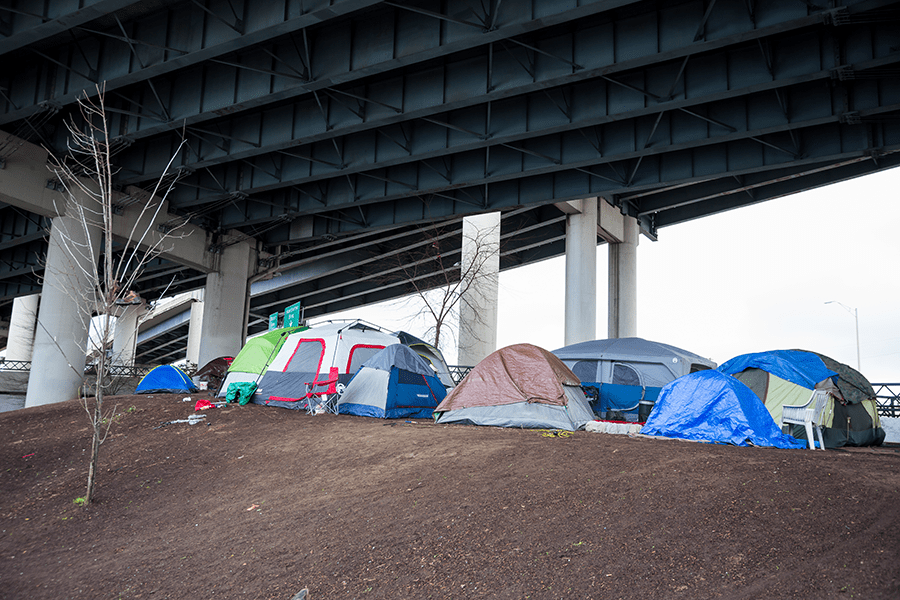 I. PC 647(e): Illegal Squatting
---
Legal Definition: PC 647(e): "Who lodges in any building, structure, vehicle, or place, whether public or private, without the permission of the owner or person entitled to the possession or in control of it."
II. What does this mean?
---
This section criminalizes unlawful lodging, also known as squatting. This section also includes people who have a temporary shelter, such as a homeless person who sets up a tent or temporary shelter on a person's property, without that owner's consent. Even if there is no shelter, it's still a crime to even sleep on another person's property, similar to that of trespassing.
Because of the massive homeless population in California, due to high rent prices, and job losses during the pandemic, this crime is quite controversial. In essence, a person unable to live in a home, and therefore sleeps on a street, can be arrested and charged with a crime.
Lodging means that a person is staying in the same area on a long-term basis. Therefore, a tent that a person sets up to sleep on another's property would be considered lodging, since the person is attempting to remain in the area for some time. Some factors to consider if someone is actually lodging is if there is a temporary shelter if they intend to stay the night, and also if they have a sleeping bag or cot. Loitering, by itself, is not lodging.
III. Penalties
---
A violation under PC 647(e) is a misdemeanor-only offense in California, as opposed to a felony or infraction offense. If convicted, you could be sentenced to up to one year in County Jail. You would have to serve at least 50% of that time in custody. You could also face fines up to $1,000, as well as a stay-away order from the property you were residing on.
This is not a strike offense under the California Three Strikes law, and it is not a Sex Offense under PC 290. You could also face a loss of your Professional License if convicted, and if you are not a legal resident, you could face Deportation in Immigration Court (link) if you were to receive multiple misdemeanor convictions.
IV. Common Defenses
---
A defense to the charge of illegal squatting would be permission from the owner or manager, who has the ability to give that permission, to allow you to reside there. You can be given express permission, such as a person signing an agreement or given verbal permission from the owner to remain. You can also receive implied permission, this is silent, and it is given if the person knows that you are lodging on their property and they do not stop you, then the permission can be implied. Here, if you have permission to reside on the property, then there would be insufficient evidence to prove you guilty of this charge.
Also, if police act in violation of your rights, your attorney can argue that the police did an illegal search and seizure, and evidence of the squatting would be suppressed, meaning your case could possibly be dropped. Here, the argument to be made is the police made unlawful contact with you, such as an illegal arrest that violates your rights. If that were to happen, then your Ontario Criminal Defense Attorney can argue that the illegal arrest means your case should be dismissed or reduced, based on unlawful police contact.
V. Call Today
---
A conviction under this section can have a devastating aspect on your livelihood. You are likely looking at custody time, loss of freedom, and a criminal record. You are also facing stiff fines and being unable to return to that same area in the future. Our Ontario PC 647(e) attorney has successfully defended thousands of people in Ontario and throughout Southern California. Call your local Ontario Criminal Defense Attorney today at the Inland Empire Defense 909-939-7126. Located in Ontario.