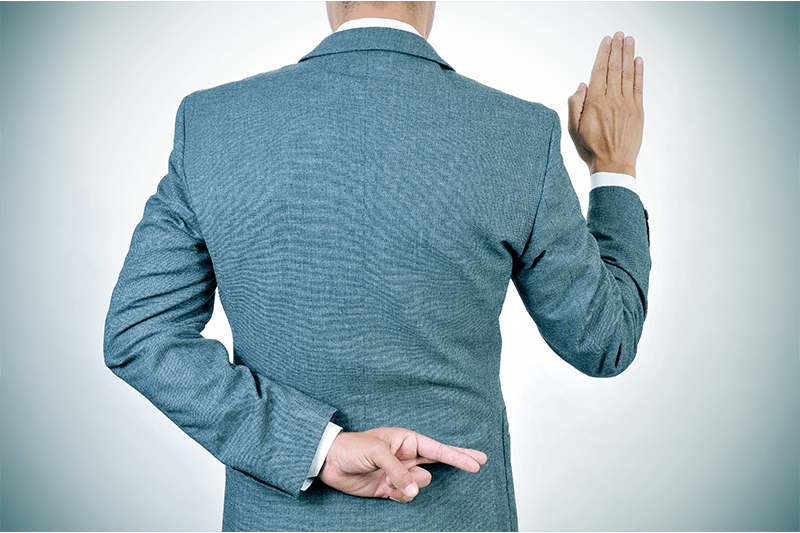 I. California Penal Code 118/118a: Perjury
---
Legal Definition:
PC 118
is testifying falsely while under oath to any officer, tribunal, or person, or declaring under penalty of perjury that something is true when the defendant knows it to be false.
PC 118a
involves the filing of legal documents with false information, or missing information that was intended to defraud.
For a person to be convicted of a violation of
PC 118/118a
, the prosecution must prove the following:
1a. You took an oath to testify/declare/depose/certify truthfully before a competent tribunal/officer/person under circumstances in which the oath of the State of
California lawfully may be given;
OR
1b. You testified/declared/deposed/certified under penalty of perjury under circumstances in which such testimony/declaration/deposition/certificate was permitted by law;
2. When you testified/declared/deposed/certified, you willfully stated that the information was true even though you knew it was false;
3. The information was material;
4. You knew you were making the statement under(oath/penalty of perjury);
AND
5. When the defendant made the false statement, you intended to testify/declare/depose/certify) falsely while under oath/penalty of perjury;
AND
(For PC 118a only)
6. You signed and delivered your declaration/deposition/certificate to someone else intending that it be circulated or published as true.
II. What does this mean?
---
You have all seen enough courtroom shows to know that before a person is set to testify in Court, they must raise their right hand, and give an oath or affirmation that what they are about to testify is truthful. The code section here expands that to also depositions and other hearings where you took an oath. This is not an oath that you take with your friends, this is an actual, legal oath you take before testifying. A common example of this happens when a person lies on the stand during a Trial to either change their original story, for whatever reason, to conform to the new story they have for that day. This is common in Domestic Violence cases where one party has a change of heart.
For the other part of this section, it requires the signing of legal documents, where right above the signature line reads "You are signing this under Penalty of Perjury". A common example of this is the
Welfare Fraud allegations
. For this charge, you must sign a legal document to show that you are affirming your income in order to receive aid from the State. If that ends up being false, like for example you list yourself as single, but have a husband that lives with you most of the time, and fail to report his income, then you would be guilty of Welfare Fraud AND Perjury. And each subsequent signature is an additional Felony Charge of Perjury.
III. Penalties
---
Perjury is a straight Felony in California, meaning that if convicted, you could only ever be sentenced as a Felon. For
PC 118
, if convicted you could be sentenced to upwards of two, three, or four years in a State Prison. You would be required to serve 50% of that sentence. If you were to be convicted for
PC 118a
, you could be sentenced to State Prison for upwards of sixteen months, two years, or three years. You must also serve 50% of that sentence. In addition to this, there are also fines and fees associated with the charge, as well as you now being a convicted felon, losing your 2nd Amendment Gun Rights, losing your ability to vote, and visiting certain facilities being a convicted Felon.
Also, a good amount of people who find themselves in this situation also face issues with
Professional Licenses
and
Immigration issues
. A conviction under this section is considered a Crime of Moral Turpitude, so you could be forced to surrender your license, and face almost immediate Deportation proceedings with a charge like this on your record.
IV. Common Defenses
---
It is not a defense if you claim you did not know that the material that you were signing or testifying to was actually material. It is a defense, however, if you did not know the nature of what you were signing. Imagine the scenario of a person from another country, who does not read or understand English, being told to sign some Legal Documents. Now, for something like Welfare Fraud, there is a person tasked with explaining the forms to every person who signs them so they fully understand their reporting responsibilities. However, that does not always happen, and sometimes people are signing things and are not even aware of what their duties or requirements are. If you do not know the nature of the legal document you were signing at the time of the alleged offense, then you cannot be convicted under this section.
For falsely testifying, if you were told information that you later testify to, and that information later turns out to be false, that does not make you guilty under this section. It is also a requirement that you knew at the time you were testifying that the information was false. Otherwise, everyone who ever testifies who is proven wrong would never want to testify given that their good faith belief in the truth at the time of testifying was not in fact true.
V. Call Today
---
The charges here are serious enough that the State of California does not allow them to be charged as misdemeanors. In addition, given the fact that these are Moral Turpitude crimes, you face significant Immigration and Licensing issues if you suffer a conviction. You need to speak to an attorney that handles these cases and can negotiate a dismissal of the charges or a reduction to a charge that is either not a Felony or not a Crime of Moral Turpitude. In my experience handling these cases, I've been able to negotiate for many dismissals and reductions to save my clients' jobs and their Status in this County as an Immigrant, and I can help you or your loved one too. Our
PC 118
Ontario criminal defense attorney has successfully defended numerous cases involving
PC 118
and other serious offenses. The initial consultation is free and we are available to answer your questions 24/7. Call the Inland Empire Criminal Defense today at
909-939-7126
! Located in Ontario, CA.