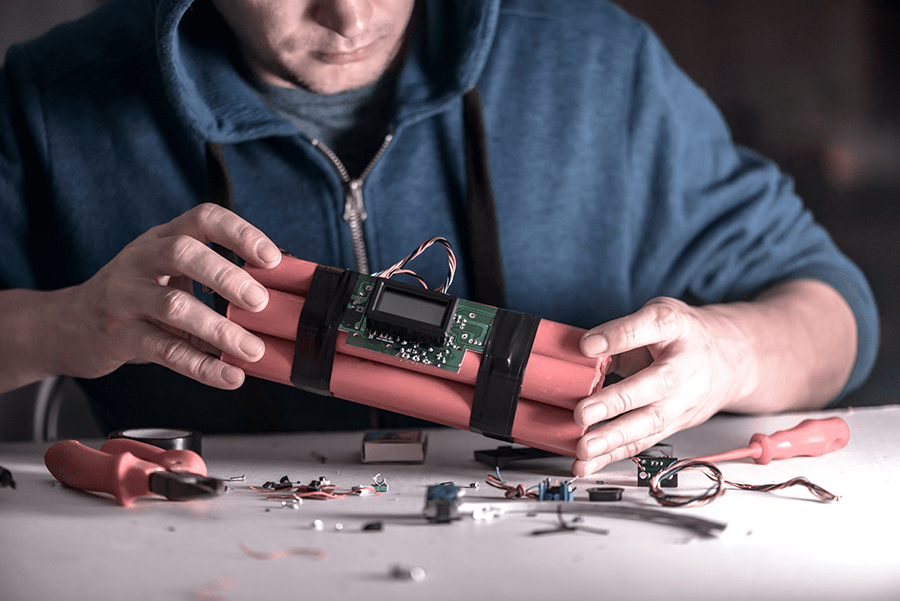 I. PC 18720: Possession of Destructive Device Materials
---
Legal Definition: "Every person who possesses any substance, material, or any combination of substances or materials, with the intent to make any destructive device or any explosive without first obtaining a valid permit to make that destructive device or explosive, is guilty of a felony, and is punishable by imprisonment.."
To be found guilty under PC 18720 the prosecution must prove that you intentionally:
You possessed a substance/material/combination of substances and materials;
AND
When you possessed those items, you intended to make an explosive/destructive device.
II. What does this mean?
---
An explosive is any substance, or combination of substances:
Whose main or common purpose is to detonate or rapidly combust and
Which is capable of a relatively instantaneous or rapid release of gas and heat.
An explosive is also any substance whose main purpose is to be combined with other substances to create a new substance that can release gas and heat rapidly or relatively instantaneously. A destructive device is defined here. A person does not have to actually hold or touch something to possess it. It is enough if the person has to control it/the right to control it, either personally or through another person. All that is required under this section is that you intended to make the device, it is not required to be proven guilty if you were never going to actually use the bomb that you created.
III. Penalties
---
A violation under PC 18720 is a felony offense in California. If convicted under this section, you could be sentenced to State Prison for upwards of two, three, or four years. You would have to serve at least 50% of that time in custody. You would also lose your 2nd Amendment Right to possess a firearm for life and be subject to fines upwards of $10,000.
This is not a strike offense under the California Three Strikes law, and it is not a Sex Offense under PC 290. You could also face a loss of your Professional License if convicted, and if you are not a legal resident, you could face Deportation in Immigration Court since the offense could be considered an aggravated felony and is a crime of moral turpitude, making you now deportable.
IV. Common Defenses
---
If you are able to show that you possessed the materials, but lacked the intent to actually make or construct a bomb, you could not be found guilty under this section. Remember, it's a requirement to possess the items with the intent to create a destructive device or bomb. Failing to show your intent, would mean there is insufficient evidence to prove you guilty of the crime.
Entrapment occurs when police, or their agents, encourage or promote the crime by way of their overbearing conduct. The idea has to be formed in the mind of the police, and not on the Defendant, in order to successfully use this defense. If your Ontario Criminal Defense Attorney can show that you were entrapped into possessing the destructive device materials, through a possible undercover operation, Entrapment would act as an affirmative defense to the charges. This would mean your case can be dismissed if your attorney can show you were entrapped and improperly influenced by police to commit this crime.
V. Call Today
---
These charges carry a more harsh punishment than possessing the finished products under PC 18710 and are therefore considered more serious. A felony conviction can remove your ability to ever own or possess a firearm for life, remove your ability to vote, and limit what places you can even attend as a convicted felony. Our Ontario PC 18720 attorney has successfully defended and is well versed in explosives cases including PC 18710 cases in Ontario. Call your local Ontario Criminal Defense Attorney today at the Inland Empire Defense 909-939-7126. Located in Ontario.