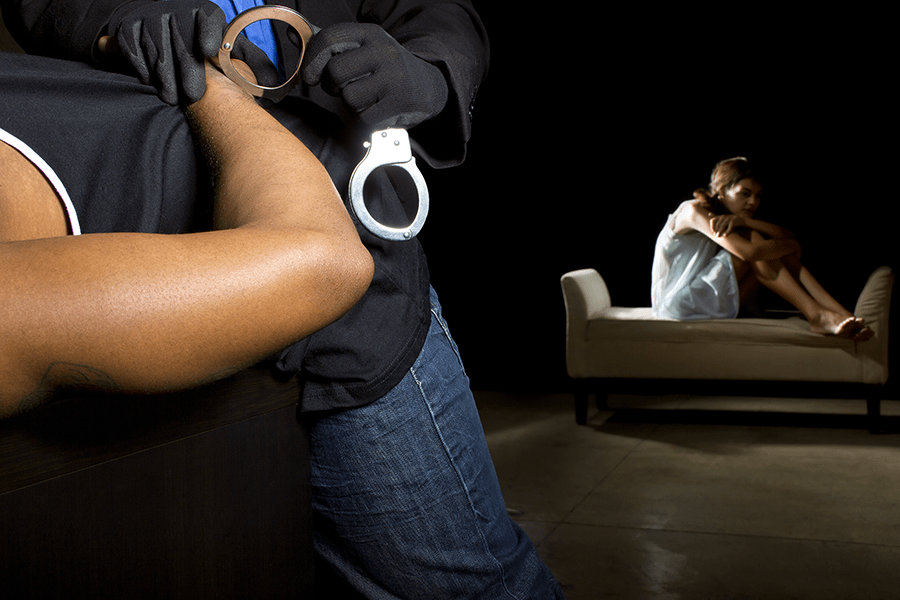 PC 266c: Unlawful sexual intercourse Laws
Legal Definition: "Every person who induces any other person to engage in sexual intercourse, sexual penetration, oral copulation, or sodomy when his or her consent is procured by false or fraudulent representation or pretense that is made with the intent to create fear, and which does induce fear, and that would cause a reasonable person in like circumstances to act contrary to the person's free will, and does cause the victim to so act, is punishable by imprisonment in a county jail for not more than one year or in the state prison for two, three, or four years."
For a person to be convicted of a violation of PC 266c, the prosecution must show that:
You engaged in an act of sexual intercourse/penetration, oral copulation, or sodomy with another person;
You did this act against the victim's will;
The consent to engage in the sex act was procured by false or fraudulent representation or pretense made with the intent to create fear, and which does induce fear, and that it would also cause a reasonable person in similar circumstances to act contrary to the person's free will, and that the victim does act;
AND
The sex act was committed by means of force, violence, duress, menace, or fear of immediate and unlawful bodily injury to the alleged victim or another person.
What does this mean?
As used in this section, "fear" means the fear of physical injury or death to the person or to any relative of the person or member of the person's family. An example of this crime would be a person who threatens another to cause harm to their family or loved one if they don't engage in the sex act with them. This crime involves not only rape, but sodomy, or oral copulation.
The difference between this charge and Rape is that the charge here involves "consent" to the sex act, but that the consent was gained through some kind of false representation. Rape is when the person never consents to the sex act, and no false pretenses are used.
Penalties
A violation under PC 266c is a wobbler offense in California. This means you can be charged with this section as a misdemeanor or as a felony offense. Whether you are charged with a felony or a misdemeanor is based on your criminal history and the specific facts of your case. If you are convicted of this charged as a felony, you could be sentenced to State Prison for up to 2, 3, or 4 years. If you are convicted of this section as a misdemeanor you could be sentenced to up to one year in County Jail. You would have to serve at least 50% of that time in custody.
This is not a strike offense under California's Three Strike Laws. However, a conviction under this charge would require you to Register as a Sex Offender under PC 290. You would likely face Deportation if you are not a Legal Resident in California through Immigration Proceedings, and would lose a Professional License you would have because this is a crime of moral turpitude.
Common Defenses
This charge can be defended by showing the elements of the crime have not been met. For example, had you never made any false pretenses or threats to the alleged victim or to their family, then you can argue the elements of the crime have not been met. Remember, the defense isn't claiming that you did not have some kind of sexual contact with the other party, but rather, the way and manner in which you were able to have a sex act with the other person. Failing to show these threats, would mean there is insufficient evidence to prove you guilty of the crime under PC 266c.
Another possible defense available to you is if police coerced you into confessing that you committed the sex act by false pretenses. Police could have you sitting in an interview room for hours, without food or sleep, and convince you that you did something wrong, so much so that you admit guilt. If police use overbearing conduct to force you into confessing to a crime, your attorney can fight to have your statement thrown out of Court and making your case much easier to defend without a confession.
Each of the above will link to the "Defenses" section of the webpage so I don't repeat myself.
Call Today
Registering as a Sex Offender is a devastating impact on many Sex Crimes in California. In addition, you are facing serious custody time upon a conviction. This isn't a charge to handle lightly. Our PC 266c Ontario attorney has successfully defended many cases of sex charges under PC 266c throughout the Inland Empire. The initial consultation is free and we are available to answer your questions 24/7. Call the Inland Empire Criminal Defense today at 909-281-0391! Located in Ontario, CA.