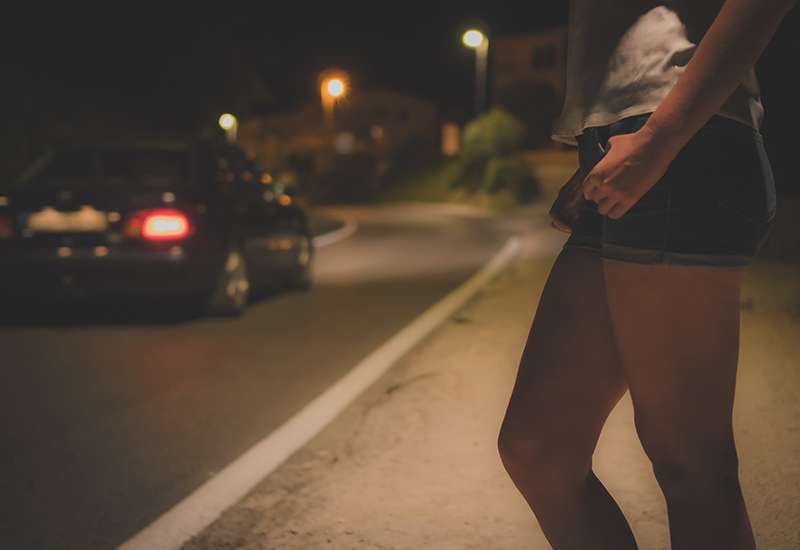 I. California Penal Code 653.22 – Loitering with the Intent to Commit Prostitution
---
Legal Definition: To loiter with intent to commit prostitution means to delay or linger on the property without lawful purpose and for the purpose of committing the crime of prostitution.
For a person to be convicted of a violation of
PC 653.22
, the prosecution must prove the following:
You delayed or lingered in a public place;
When you did, you did not have a lawful purpose for being there; AND
When you did, you intended to commit prostitution
II. What does this mean?
---
Either the person who looks for services, or provides services, can be charged with this crime. Prostitution is defined in
PC 647(b)
as engaging in, agreeing to, or soliciting sexual services for compensation. To prove you are guilty of this offense, the Prosecution must show that you were loitering in an area with the specific intent to commit the crime of Prostitution. Understand that it is not an intent if you spoke with someone who was a prostitute or a police officer pretending to be a prostitute, and money was never discussed or exchanged. The crime is simply about being in a place with the intent to commit that crime. A person under the age of 18 cannot be convicted under this section.
There are several factors that are helpful, but not exhaustive, that police will turn to in determining whether they believe you are in the area to commit an act of prostitution:
(1) Repeatedly beckons to, stops, engages in conversations with, or attempts to stop or engage in conversations with passersby, indicative of soliciting for prostitution.
(2) Repeatedly stops or attempts to stop motor vehicles by hailing the drivers, waving arms, making any other bodily gestures, or engaging or attempting to engage the drivers or passengers of the motor vehicles in conversation, indicative of soliciting for prostitution.
(3) Has been convicted of violating this section, subdivision (a) or (b) of Section 647, or any other offense relating to or involving prostitution, within five years of the arrest under this section.
(4) Circles an area in a motor vehicle and repeatedly beckons to, contacts, or attempts to contact or stop pedestrians or other motorists, indicative of soliciting for prostitution.
(5) Has engaged, within six months prior to the arrest under this section, in any behavior described in this subdivision, with the exception of paragraph (3), or in any other behavior indicative of prostitution activity.
It is important to note, that even if prostitutes are not present, you can still be convicted of this crime. All that is needed is that you believed that prostitutes were present and then loitered in an area with the specific intent to commit prostitution.
III. Penalties
---
A conviction under this section is a misdemeanor, where you could face up to six months in County Jail. You would be required to serve at least 50% of that time. This is not a sex offense defined under
PC 290
, thus you will not be required to register for any time period as a Sex Offender, unless under odd, and extreme circumstances as defined by a Judge. In addition, most Courts in California require you to complete some kind of HIV Testing and AIDs Education Program that gets filed and submitted to the Court. Also, if the area that you are frequenting is a known area for Prostitution and Sting operations by Police occur there, you could also be restricted from visiting that area at any time, which can be problematic if you work nearby or live nearby.
IV. Common Defenses
---
Commonly this offense is considered the being in the wrong place at the wrong time, crime. Many people find themselves in a circumstance where they believe they were not in an area for prostitution but were there for a lawful purpose instead. Many of these cases turn on these facts if you are able to demonstrate why you were in that area, and that it was not for the purposes of prostitution.
Another circumstance can be the defense of "
Entrapment
", as many people are familiar with. Entrapment occurs when the police encourage or promote crime by way of their overbearing conduct. Most entrapment cases are associated with undercover sting operations by law enforcement. The concept of the crime itself has to be formed from the police, not from yourself, and it is the police's conduct, that forces or entices you into committing the crime.
In other words, it isn't simply that a police officer is undercover as a prostitute, explains his/her prices to you, and agrees to the conduct. If you were already there to pick up a prostitute, they did not entrap you. That is because the criminal idea was already formed within your mind before you spoke to the police. A successful version of this defense would be that your car is broken down on the side of the road, and while tending to it, an undercover officer comes over to you and entices you to engage in prostitution. Because you were simply in that area based on car trouble, then your original intent was not to solicit the services of a prostitute, and you could successfully use this defense in Court.
V. Call Today
---
A crime like this might seem small, but it is easily fightable and something worth your time considering. Many first-time offenders do not get asked to do any jail time, but a conviction can still be devastating to a person's
professional
career. A doctor, nurse, or teacher could lose their job by having any kind of sexually related conviction on their record. Given how these can easily be fought, and the serious repercussions that can follow you for life, you need the right attorney to defend you. Our
PC 653.22
Ontario attorney has successfully defended numerous cases and personally specializes in all Sex Crimes including
PC 653.22
. The initial consultation is free and we are available to answer your questions 24/7. Call the Inland Empire Criminal Defense today at 909-939-7126! Located in Ontario, CA.