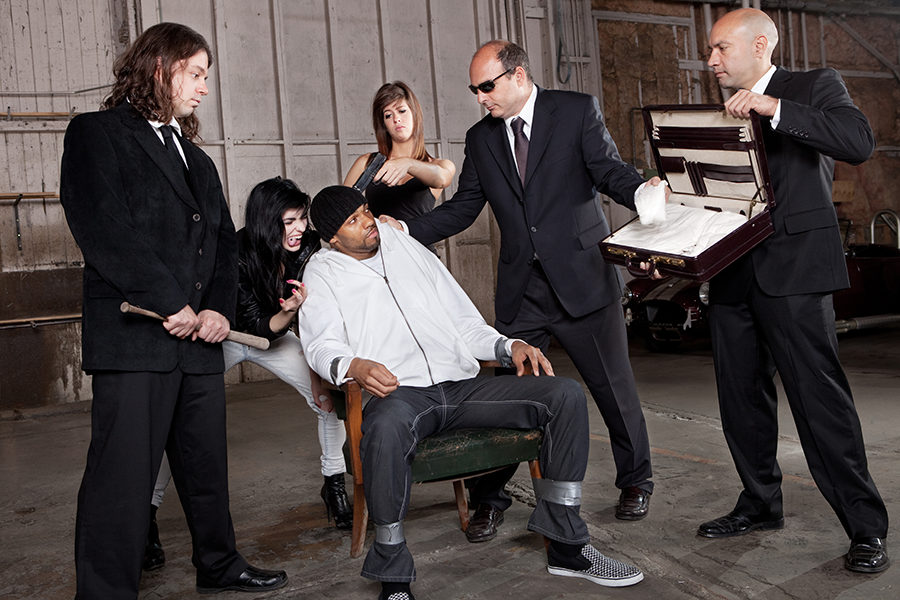 I. PC 653f: Solicitation Laws
---
Legal Definition: (a) Every person who, with the intent that the crime is committed, solicits another to offer, accept, or join in the offer or acceptance of a bribe, or to commit or join in the commission of carjacking, robbery, burglary, grand theft, receiving stolen property, extortion, perjury, subornation of perjury, forgery, kidnapping, arson or assault with a deadly weapon or instrument or by means of force likely to produce great bodily injury, or, by the use of force or a threat of force, to prevent or dissuade any person who is or may become a witness from attending upon, or testifying at, any trial, proceeding, or inquiry authorized by law, shall be punished…
For a person to be convicted of a violation of 
PC 653f, 
the prosecution must show that:
1. You attempted to encourage or entice another person to commit a misdemeanor or felony offense;
AND
2. You intended for the other person to commit that crime;
AND
3. The other person received your request.
II. What does this mean?
---
There are several crimes that if you solicit a person to commit can lead to charges under this section:
In addition, the required solicitation has to be one that you intended to make. For example, if you are with your friends, and make a joke that someone should murder your ruthless boss, this would likely not be considered a solicitation for murder, as it's told in jest and not intended to be taken as a serious proposition. The other party also does not even need to commit a crime or even begin to start committing the solicited crime. They also do not need to even agree to commit the crime at all for you to be in violation of this section. The crime is the intentional making of the solicitation to another person. You can communicate this solicitation to commit a crime by any means of communication, including non-verbal communication.
A common example here, as seen in many day time television shows, is a person trying to hire another to murder their spouse. An agreement is made to take the spouse's life, maybe because they are no longer in love with them, or to gain custody of a child, or even just to gain a life insurance policy in their name at the untimely demise of their spouse. The person then soon finds out that the hired killer, is actually undercover police, and they get arrested for Solicitating a Murder (PC 653f(b)).
III. Penalties
---
There are several subsections under Solicitation crimes that will determine what possible punishment you can receive if convicted. But note, it is most often a felony charge only, except as indicated below.
PC 653f(b) Solicitation to Commit Murder: If convicted under this section, you could be sentenced upwards of three, six, or nine years in State Prison.
PC 653f(c) Solicitation to Commit Sex Crimes: If you are convicted of soliciting a person to commit Rape, Lewd Acts on a Minor, or Digital Penetration with a Foreign Object, then you could be sentenced to upwards of two, three, or four years in State Prison.
PC 653f(d)(1) Solicitation to Commit Drug Crimes: If you are convicted of soliciting another to transports or sell drugs, you could be sentenced to County Jail for upwards of one year as a misdemeanor offense. If you are charged under this section as a felony offense, you could be sentenced upwards of 16 months, 2, or 3 years in a State Prison.
PC 653f(a) Solicitation: All of the above remaining charges listed above, the punishment is found here where the charge is a wobbler offense. This means you could be sentenced to upwards of one year in County Jail. If you are charged under this section as a felony offense, you could be sentenced upwards of 16 months, 2, or 3 years in a State Prison.
This is not a Strike Offense under California's Three Strike's Law. However, given that the nature of the charge involves enticing another to commit an act prohibited by law, it is very likely that a person who is convicted under this section would face stiff punishments regarding Professional Licenses or Immigration. This, in addition to a possible long prison term once a person were to be released from custody. You could also be subjected to hefty fines and a long probation/parole period, in addition to possible Criminal Protective Orders for the alleged victim or victims of your criminal act.
One important note under these charges, is these charges are only going to exist if the crime that the person did commit is not a more serious punishment than what is proscribed here and the act is committed. For example, if you solicit another to commit murder, and they then actually do commit murder, you would not be looking at the above sentence. Instead, you would be looking at PC 187 Murder charges and a possible sentence of 25-years to life in State Prison. So in essence, although the other party is not required to commit the crime for you to be found guilty under the section, if they actually do commit the act, you are going to be looking at the much more serious charge and sentence than what is under this section.
IV. Common Defenses
---
Here, as mentioned previously, a joke or silly comment will never become a solicitation crime, based on the circumstances surrounding the request you make. Therefore, lacking intent for your comment to be heard as an actual request for another to commit a crime, would be able to defeat these charges by showing that there is insufficient evidence to prove you guilty of the elements of the crime.
Another possibility, is possible plea agreements that can be done, to make you become a State Witness, if, for example, the Prosecutors and Police cannot find the actual person who committed the crime, and cannot tie them to the crime itself. From there, if you were implicated in the crime as the solicitor, you could become a witness to assist in the arrest of the person who committed the crime for a lesser sentence. This is not always offered, and most time is not, but could also be potential if the odds are stacked against you. But, all cases are different, and even if this is an option in your case, it may not be the option for you.
There could also be an issue involving the statute of limitations (three-year statute of limitations for PC 653f(a), the six-year statute of limitations for PC 653f(b), and PC 653f(c)). If it took longer than 3 to 6 years to bring you to Court, you could possibly have your case dismissed via a possible Demurrer or Serna/Jones motion. Speak to an experienced criminal defense attorney to get more information regarding this defense.
V. Call Today
---
Solicitating another to commit a crime could lead you to some serious custody time and a loss of your future. Most often this charge is prosecuted as a felony offense, which means possible State Prison sentences if you are convicted. It is an extremely serious case that require a knowledgeable attorney who knows how to defend these charges. Our PC 653f Ontario attorney has successfully defended numerous cases involving soliciting others to commit crimes under PC 653f(a), PC 653f(b), PC 653f(c) ad PC 653f(d)(1). You, or your loved one, cannot chance to ruin your life. The initial consultation is free and we are available to answer your questions 24/7. Call the Inland Empire Criminal Defense today at 909-939-7126! Located in Ontario, CA.